Best Practices for Small Businesses and Social Media
SMSU Communication Studies: PR
Best Practices for Small Businesses and Social Media
Senior Project
---
Abstract:
                  For this project, several small businesses in Marshall, MN were given a survey and evaluated based on their social media practices. The purpose was to find out what the best practices are for the success of the businesses based both on bringing customers into the store as well as creating traffic on various social media platforms. According to a 2015 study in Athens Daily Review, 40 percent of businesses that are online grow faster than those who are not online (Nailling, 2015). Nailling also states that "4 out of 5 consumers use search engines to find local information" (Nailling, 2015). For these reasons, it is evident that having an online presence is a must in today's society. As a Communications Studies: Public Relations Major with a Marketing Minor, evaluating and researching social media platforms and what businesses find most beneficial can give me the information and skills to become better at promoting companies that I will work for after graduating from SMSU. Eight small businesses in Marshall chose to participate. Each business has different specialties: coffee shops, photography studios, boutiques, restaurants, plant and flower shops, and specialty shops.
Research Questions:
 - What role does social media play in the success of small businesses in Marshall, MN?
          a. Which platforms are most beneficial for bringing customers into the store and generating revenue?
          b. Which platforms draw the most traffic online from potential customers?
Goal:
 - To gain insight about what social media practices are most beneficial for small businesses in Marshall, MN.
 Objectives:
Conduct a best practices research project by researching social media platforms and interviewing local small businesses on their social media practices to find out which platforms are most beneficial in Marshall, MN.
Review current literature regarding social media platforms and practices.
Determine which platforms are bringing customers into stores in Marshall, MN and which platforms generate the most activity online.
Procedures:
Decide which small businesses to evaluate.
Research social media platforms and become familiar with each of the focused platforms.
Contact and give survey to small businesses to ask questions regarding social media practices.
Evaluate the social media pages that each business utilizes.
Keep track of and take notes regarding details from each page.
Compare and contrast similarities and differences between the companies and their social media practices.
Share information within the Communications Department at SMSU.
Definitions
     - Small Business:
"An independently owned and operated business, whose owner(s) exercises close control over operations and decisions…typically with less than 100 employees" (Etzel, 2003).
     - Social Media:
any online site whose "common characteristics include participation of the user, computer mediated communication, and more interactivity between producer and consumer" (Verheyden, 2013).
     - Social Media Platform:
Media platforms for social interaction (Ma, et al. 2014)
Businesses:
     - Blue Green Flowers (plants and flowers)
     - Daily Grind (coffee shop)
     -
Greenwood Nursery (plants and flowers)
     -
Studio B (photography)
     -
Tattle Tales (specialty shop)
     -
Walnut Grove Mercantile (specialty shop)
     -
Sole-Mates (shoe store)
     -
509 Design (interior design/decorating)
Results:
                  Since social media platforms like Facebook and Twitter have rapid growths of followers and the ability to "attract new customers and drive sales" social media in small businesses are becoming crucial to success (Milder, 2013). From researching social media history and usage, the bigger the company, generally the more social media platforms they utilize. However, just because a company may use more social media platforms does not mean that they are more successful or show that they (platforms) are being managed better (Verheyden, 2013).
                  Fourteen small businesses were contacted to see if they wanted to participate in filling out a survey regarding their social media presence.  Eight small businesses agreed to participate in the survey. The businesses that participated include: 509 Design, Tattle Tales, Blue Green Flowers, Greenwood Nursery, Sole-Mates, Daily Grind, Studio B, and Walnut Grove Mercantile.
                  After collecting and analyzing data from the surveys and the individual platforms, it has been concluded that small businesses in Marshall, MN find social media to be an important aspect in marketing their stores. More precisely, the vast majority of these small businesses feel that Facebook is the most important for gaining attention online as well as bringing customers into the store with Instagram being next in line.
                  It was found that the statistics of Facebook being highest in success compares to a study conducted in May 2012. According to the Constant Contact survey, Facebook was ranked at 83% for being most effective out of any other social media platforms including Twitter, Google+, and others (Constant Contact, 2012). For the eight small businesses in Marshall who chose to participate in the survey, 87.5% (seven out of eight) of the businesses felt that Facebook was the most effective. Another reason as to why so many businesses find Facebook to be the most effective is that "Facebook was found to be the third source that respondents strongly agreed that they pay attention to advertisements, with the official websites/blogs to be the first source and travel magazines being second" (Stavrianea, 2015). As stated from Stavrianea, websites and blogs are an important resource for small businesses. For the small businesses surveyed in Marshall, only six of the eight had their own website.
                  After speaking to faculty from the SMSU Communications Department, it was concluded Facebook may be so effective because of its ease and flexibility. On Facebook, businesses can post pictures, links, videos, polls, promotions, and messages (G/O Digital Marketing, 2014). Facebook has become a hub for other social media platforms where businesses can have settings to automatically post on Facebook when you post elsewhere, such as Instagram. Facebook also has a large population with many different age groups where Twitter and Instagram appeal more to younger generations. Websites are tricky if workers do not know how to set them up and run them. It is also expensive to have someone else run websites for businesses. Facebook allows customers to connect and stay up to date with businesses for free or inexpensive ways of paid advertising. In a 2014 survey from Wells Fargo and Gallup, 37% of businesses are choosing social media to connect with customers as well as many other reasons such as marketing, advertising, reputation building, and others (Wells Fargo & Gallup, 2014).
                  Although Facebook is rated the most effective for small businesses throughout the U.S. (Constant Contact, 2012) and in Marshall, small businesses are utilizing additional social media platforms. For small businesses in Marshall, all eight (100%) businesses use Facebook, five (62.5%) use Instagram, three (37.5%) use Twitter and Pinterest, two (25%) use blogs and YouTube, and only one (12.5%) uses Google+. No other social media platforms were mentioned. Compared to a 2015 RBC Capital Markets survey taken by 379 small businesses, about 58% of small businesses use Facebook, 30% use Twitter, 19% use Google+, 9% use other platforms, and 29% do not utilize any social media platforms (RBC Capital Markets, 2015). In comparison, in Marshall, the eight small businesses evaluated have a higher average for Facebook, Twitter and Google+. Since the RBC survey does not specifically discuss Instagram, Pinterest, or YouTube, it is evident that those also rank higher in Marshall than in national averages.
                  Since Facebook was noted to be the most popular amongst small businesses in Marshall and nationwide, I wanted to research how these businesses utilize Facebook. According to a 2015 survey regarding how businesses target millennial consumers with Facebook, the most successful posts deal with offers that can be redeemed at a local store. After that category, there is a large drop off where other categories are including promoted or paid posts, photos and videos, polls, loyalty programs, contests and sponsored stories (.n.d. Most popular marketing tactics). Compared to the businesses in Marshall, the results are similar. For Marshall, the vast majority of the businesses post to announce promotions that can be offered at the local stores. After that, there were only one or two businesses that answered as to posting content that would fall into another category.
                  As shown in Table 1, we can see that the number of social media platforms that each business in Marshall has varies. Table 2 shows the number of businesses that have each platform. According to Verheyden's 2013 article, generally speaking, the larger the business the more platforms they use (Verheyden, 2013). Since this is a general comment, it is not always true. Most of the companies interviewed have few employees, which mean less people to run the various social media sites. Greenwood Nursery does have the largest employee base out of the eight small businesses that participated, however, the next business with the most social media platforms is Studio B which is only operated by the owner. Verheyden also goes on to talk about how more does not necessarily mean better. This counts both for number of platforms as well as frequency of posts. Quality beats quantity, and in this instance, it is better to have few social media platforms being managed well than a whole bunch that are mediocre.
                  In order to figure out why the businesses in Marshall utilize different social media platforms, I also looked at the ages of the people running the social media sites. Since Facebook has a large age demographic, it is not surprising that the people managing these platforms have a wide array of ages. When we look at the other platforms, such as Instagram, Twitter, and YouTube, generally speaking, these platforms appeal more to younger generations. The information on the next page will help establish these notions.
| | | |
| --- | --- | --- |
| Business | Age(s) and Number of People in Charge of Platforms | Platforms Utilized |
| 509 Design | 1 – middle aged | Facebook, Instagram |
| BlueGreen | 2 – middle aged | Facebook, Pinterest |
| Daily Grind | 2-3 - ages 20-30 | Facebook, Instagram, Twitter |
| Greenwood Nursery | 3 - ages 20-35 | Facebook, Instagram, Twitter, Pinterest, Blogs, Google+, YouTube |
| Sole-Mates | 1 – middle aged | Facebook |
| Studio B | 1 – about 30 | Facebook, Instagram, Twitter, Pinterest, Blog, YouTube |
| Tattle Tales | 1 – about 30 | Facebook, Instagram |
| Walnut Grove Mercantile | 2 - middle aged | Facebook |
Evaluation:
                  Overall I think the project went well. I was hoping to hear back from more businesses, but the ones who agreed to participate were helpful. If I were to do this project again, I would add more questions to the survey to be more detailed. I would ask why the businesses feel that the social media platforms they chose are successful. An issue I came across while analyzing the data was that one of the survey questions asked how frequently the business post on the platforms. That question should have been broken down into how often the businesses post per platform instead of a blanket answer. It would also be beneficial to try and talk to more than one person from each business regarding their thoughts on their social media usage.  
                  Even though there were some faults, this project helped me realize what businesses in Marshall do to stay in contact with customers and find out what type of content the businesses share. I can use this information to help manage the social media platforms for Greenwood Nursery. This project helped me put my Public Relations Major and Marketing Minor together and see how they play off of each other.
Table 1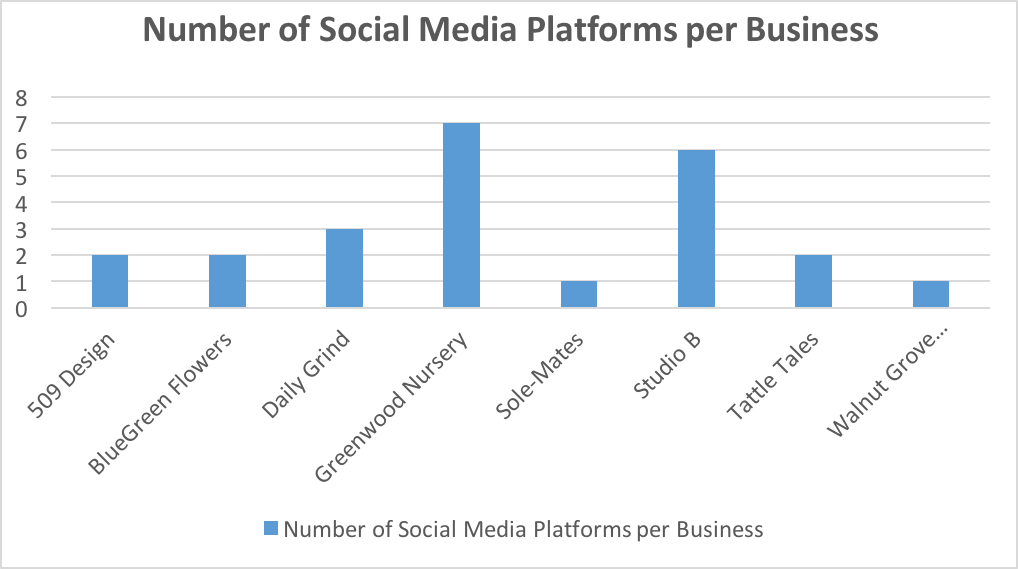 Table 2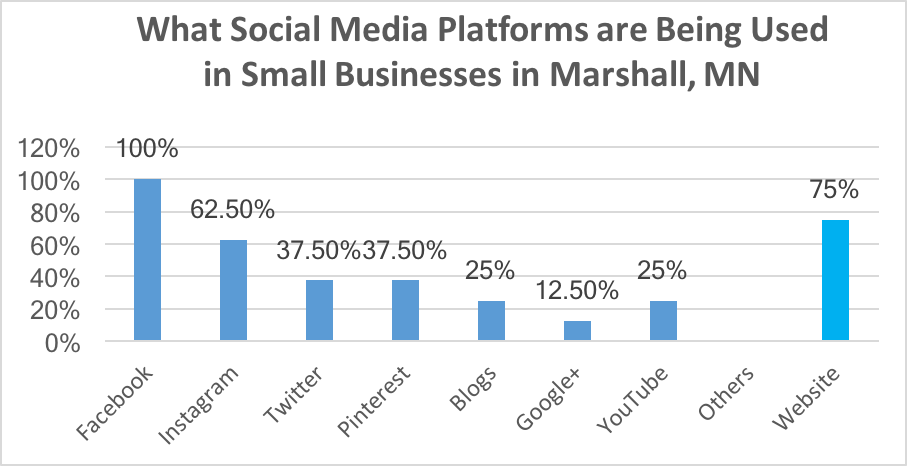 ---
Reference List
.(n.d.). Most effective Facebook marketing tactics for local or small business to target adult Millennials in the United States as of July 2014. In Statista - The Statistics Portal. Retrieved April 2, 2016.
Constant Contact. (n.d.). If social media is effective for your organization, which network do you find the most effective?. In Statista - The Statistics Portal. Retrieved April 3, 2016
Etzel, Barbara. (2003). Webster's New World Finance and Investment Dictionary. Indianapolis, IN: Wiley Publishing, Inc.
Ma, X., Yang, X., Zhao, S., Fu, C., Lan, Z., & Pu, Y. (2014). Using Social Media Platforms for Human-Robot Interaction in Domestic Environment. International Journal of Human-Computer Interaction, 30(8), 627-642. doi:10.1080/10447318.2014.907011
Milder, N.D. (2013). E-Marketing. Economic Development Journal, 12(3), 34-40.
Nailling, K. (2015, October 21). Social Media can Help Business. Athens Daily Review (TX).
RBC Capital Markets. (n.d.). Digital and social media presence of small and medium-sized businesses in the United States as of September 2015. In Statista - The Statistics Portal. Retrieved April 2, 2016.
Stavrianea, A., & Kavoura, A. (2015). Social Media's and Online User-Generated Content's Role in Services Advertising. AIP Conference Proceedings, 1644(1), 318-324. doi:10.1063/1.4907853
Verheyden, M., & Goeman, K. (2013) Does (Company) Size Matter? Differences in Social Media Usage for Business Purposes. Journal of Applied Quantitative Methods 8. (4), 3-16.
Wells Fargo. (n.d.). Social media usage of small business owners in the United States as of July 2014. In Statista - The Statistics Portal. Retrieved April 2, 2016.